Speak English by speaking English Lingo Language Studio, in its intent on ensuring that learning English is an enjoyable experience, and in collaboration with the Santa Cruz de Bezana local council, has drawn up an ambitious programme of activities for this summer. The students will get to practise the language, but at the same time, learn about caring for the environment, tolerance, respect for others, and how to take full advantage of their free time in a way that is healthy and beneficial. All the activities take place in English; total immersion in the language in fact, as they are all supervised by native English-speaking monitors. We have created two types of summer camp: one is an introduction to British culture, and the other is aimed at youngsters who want to play basketball, which is also a total immersion camp, as there will be native English-speaking coaches. Both the communication classes and the sporting activities are held in a relaxed and enjoyable environment; after all, the summer is a time to have fun; but of course, it is obligatory to use English at all times when communicating. Campamento de verano The timetable is from 10 a.m. to 4 p.m., Monday to Friday. If requested, children can arrive from 8 a.m. (please ask about availability and price).


URBAN SUMMER CAMP INCLUDES:
# Native English-speaking monitors
# theme workshops
# 2 hours of communicative classes per day
# lunch
# sports activities and competitions
# pool activities, parties
# accident and public liability insurance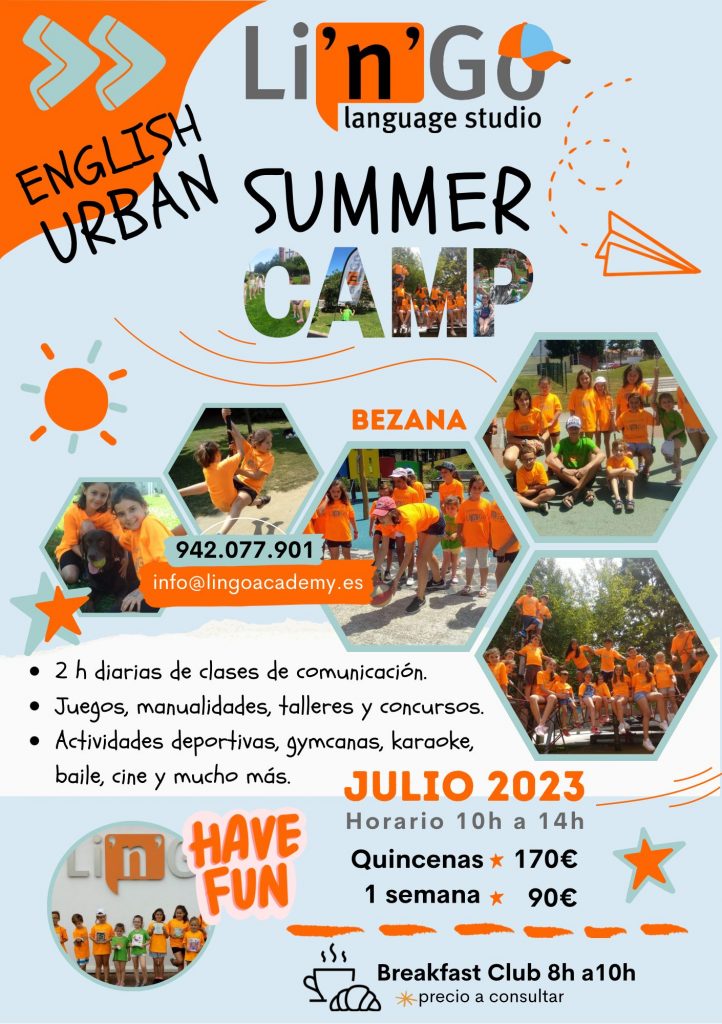 El horario será desde las 10:00 hasta las 16:00, de lunes a viernes. Para su comodidad la llegada al campus podrá realizarse a partir de las 8:00.(consultar disponibilidad/precio).
Verano 2023
Summer Camp *
(14 - 16 horas)
Summer Camp *
(10 - 14 horas)
Breakfast Club
(8-10 a.m.)
3-14 Julio
50€/sem
190 €
50€/sem
17-27 Julio
50€/sem
190 €
50€/sem
*Alumnos externos +20€